Selfie Mail from Tyra says they're gonna "take a walk in the real world" and everyone's just like "thank god we get out of this house."
Law comes to the house to tell the models they're all going to meet three designers in LA, but first, he's going to judge their walks and their outfits. I still love Law, for the record. He's immediately on the models about their club-like outfits. Law: "You guys dress like night time during the day!"
This is all pretty uneventful until Shanice walks. Law is aghast. "Girl you gots a nasty walk." He imitates her walk (imagine a bow-legged giraffe). He keeps up the shade: "You actually look perfect but that walk is stank." I love Law and want more of him.
The models are split into groups of three for no apparent reason. It's Kyla, Rio, and Erin / Khrystyana, Jeana, and Shanice. Only one model will book each show.
They visit Kunst.NYC, where Chris Mena is the designer. The look is very urban-chic and worn-in. Band of Gypsies is more bohemian, and the designers there are looking for "strong and feminine" models. Maggie Barry is third, and she calls her look "edgy and unique."
Rio booked Kunst.NYC.
Rio booked Maggie Barry.
Kyla booked Band of Gypsies.
Kyla and Rio not only get to walk in the shows, but they also get to keep one look from the designer.
All I wanna know is HOW is Khrystyana not booking these? She's the queen.
The rest of the girls watch Rio and Kyla kill it from the audience. Bummer for them.
Photo Shoot!
They're shooting a cover for Paper Magazine! Holy crap. This will be the cover that will be published digitally for the winner of the competition.
Drew has created a special "transformation" for each model.
Kyla: cyber sexy beauty
Khrystyana: dark, slick, androgynous
Jeana: bald beauty
Erin: 90s hip-hop music video
Rio: 50s dream girl
Shanice: red-carpet ready
Erin is feeling. it. Drew has to remind her to bring the model at the same time as the character.
Once Shanice's look is ready, Drew immediately takes her back to hair and makeup because he doesn't like how it looks. Then she's in a blonde bob wig and she kind of starts complaining about her lip color, etc. She's not feeling it. Shanice calls the new look "1970s hooker." Drew's annoyed at her attitude but likes her shots: "She nasty and she pretty but she's a model!"
Kyla is confused about her character portrayal. Drew tells her she needs to not give a fuck. It doesn't seem like she does well, because she clearly does give too many fucks.
Panel!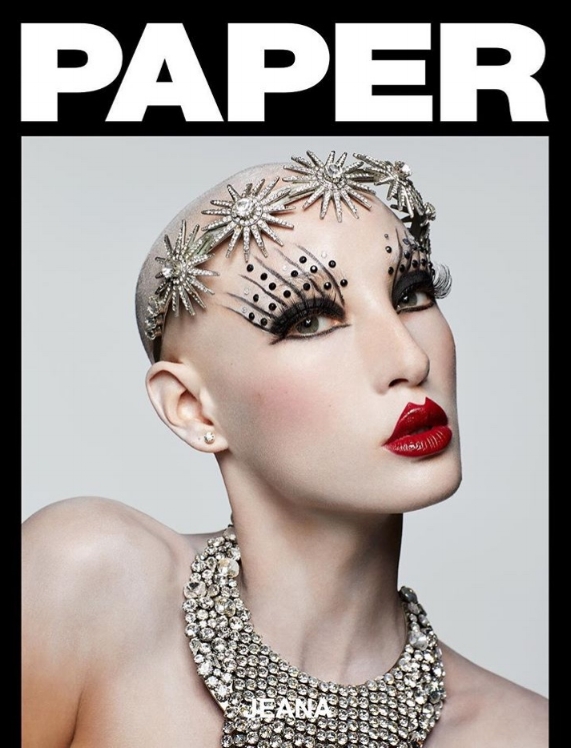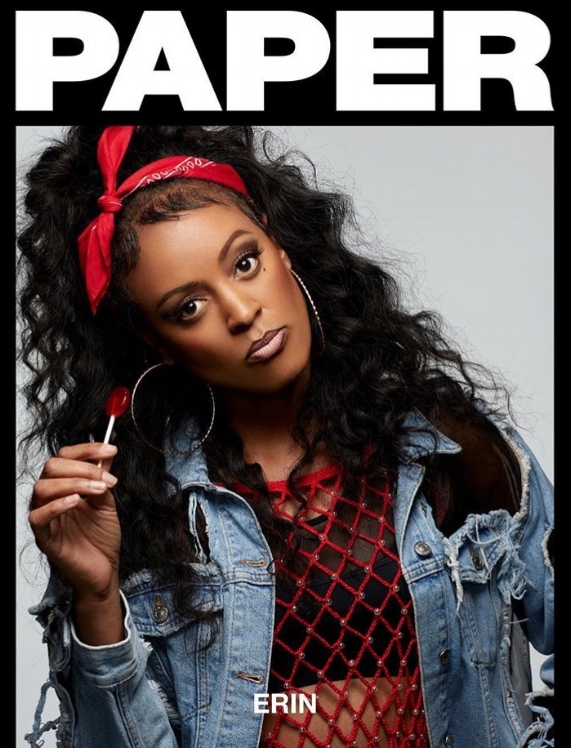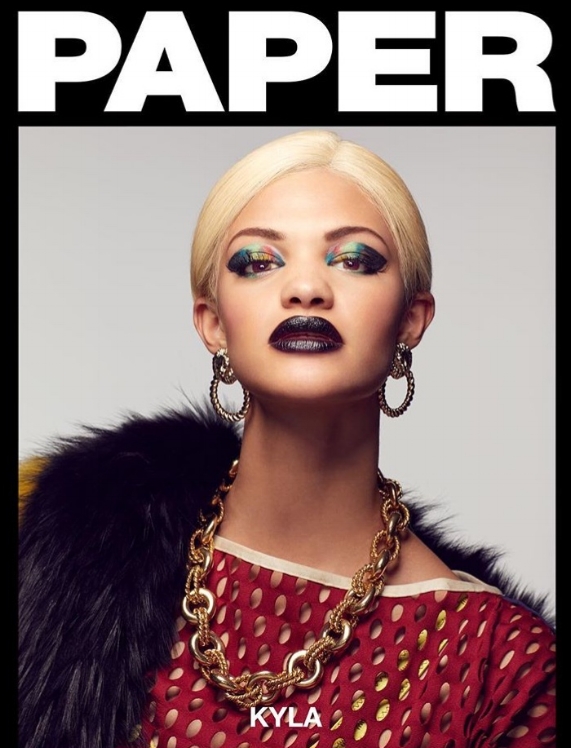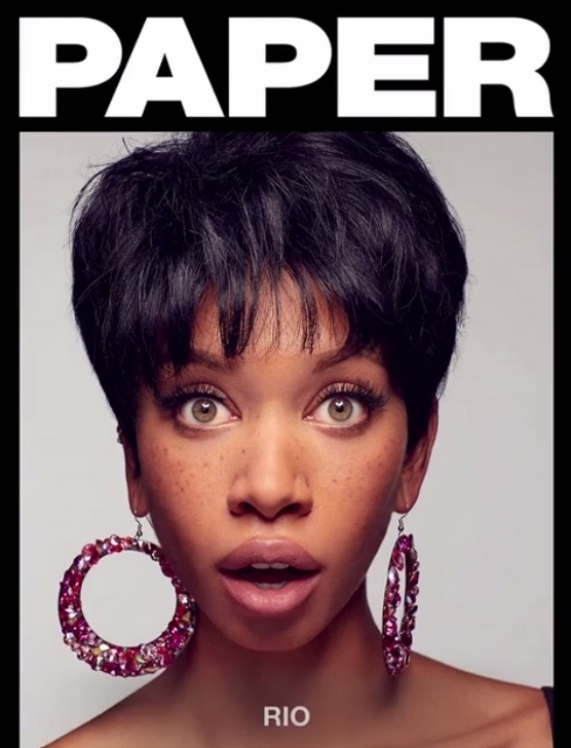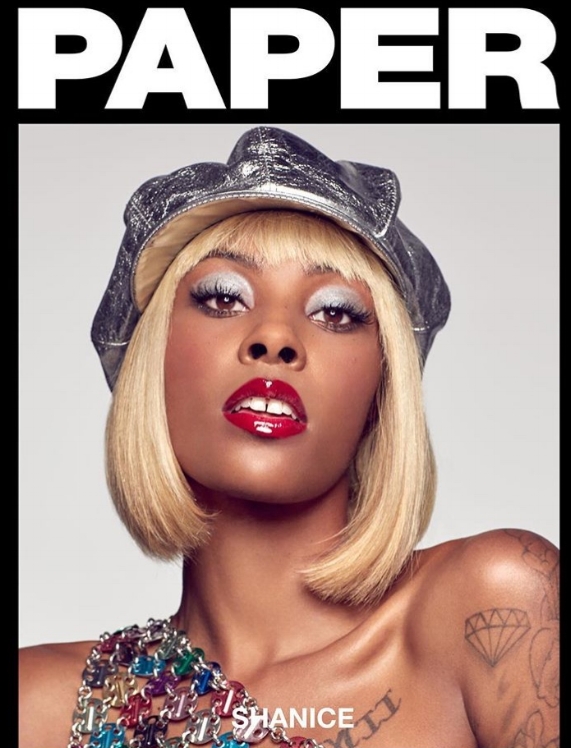 Jeana: Tyra says, "It's like Gollum meets Natalie Portman meets frozen." Law says, "It's like Black Swan."
Erin: Drew said the shot they picked was the very first one the photographer took, but she failed to elevate it to any other dimensions. Law says it looks like she's pretending to be 19 and calls it mediocre at best. Tyra actually likes it.
Kyla: Tyra says, "Your features wear you. You don't wear your features." Law says he can tell Kyla needs to be made love to. Lol. But probably though.
Khrystyana: Tyra says, "Damn, girl!" Ashley says she completely transformed. Law hates her outfit in person and says, "The hair is milkmaid. The dress is bridesmaid." But we can all see that her photo is stunning. To me she looks like a glam androgynous Isabella Rossellini.
Rio: They all say she looks like Stacy McKenzie.
Shanice: Law brings up how bad her walk is, but in the photo, he loves the shoulder and how she's showing her tattoos. Drew gives her shit about how combative she was with the hair and makeup people. She cries and apologizes to him.
Then it gets weird af. Tyra gives some…um, advice (?)…about being a baby in the modeling industry. It's honestly gibberish and I have no idea wtf she was saying. Please go watch this for yourself because I can't even do it justice.
Best cover: Rio (Damn, she killed it this week!)
Khrystyana
Jeana
Kyla
Shanice and Erin bottom are the Bottom 2.
Shanice: Tyra says, "You stand before me because you made the Creative Director of Paper Magazine very upset."
Erin: Tyra says, "You had a photo that was pretty good…but Drew says your film after that first shot was subpar."
The girl. Who is still in the running. Toward becoming. America's. Next. Top. Model. Is:
SHANICE!
Thank goodness Shanasty is staying around. I'm really starting to love her.
Seriously, go watch Tyra talk about the baby stuff. It's unsettling.
Yours in #NextLevelFierceness,
Susan