Bachelor Nation, this break between The Bachelor and The Bachelorette every year is always a long one. Monday nights have been a little less special, with a little less wine. But finally May is upon us, and so is Hannah's season of The Bachelorette. We have never been so ready for something since the final season of Game of Thrones. So let's get straight into judging the crop of men ABC has chosen for our girl.
Note: Our usual Bachelor recapper and superfan Susan is MIA because she's in the middle of moving. But never fear. Our good friend Bonnie is back (your might remember her from judging the ladies of Colton's season), and we also have a BONUS guest Chloe who is also here to share her thoughts, judgment, and disdain. Enjoy!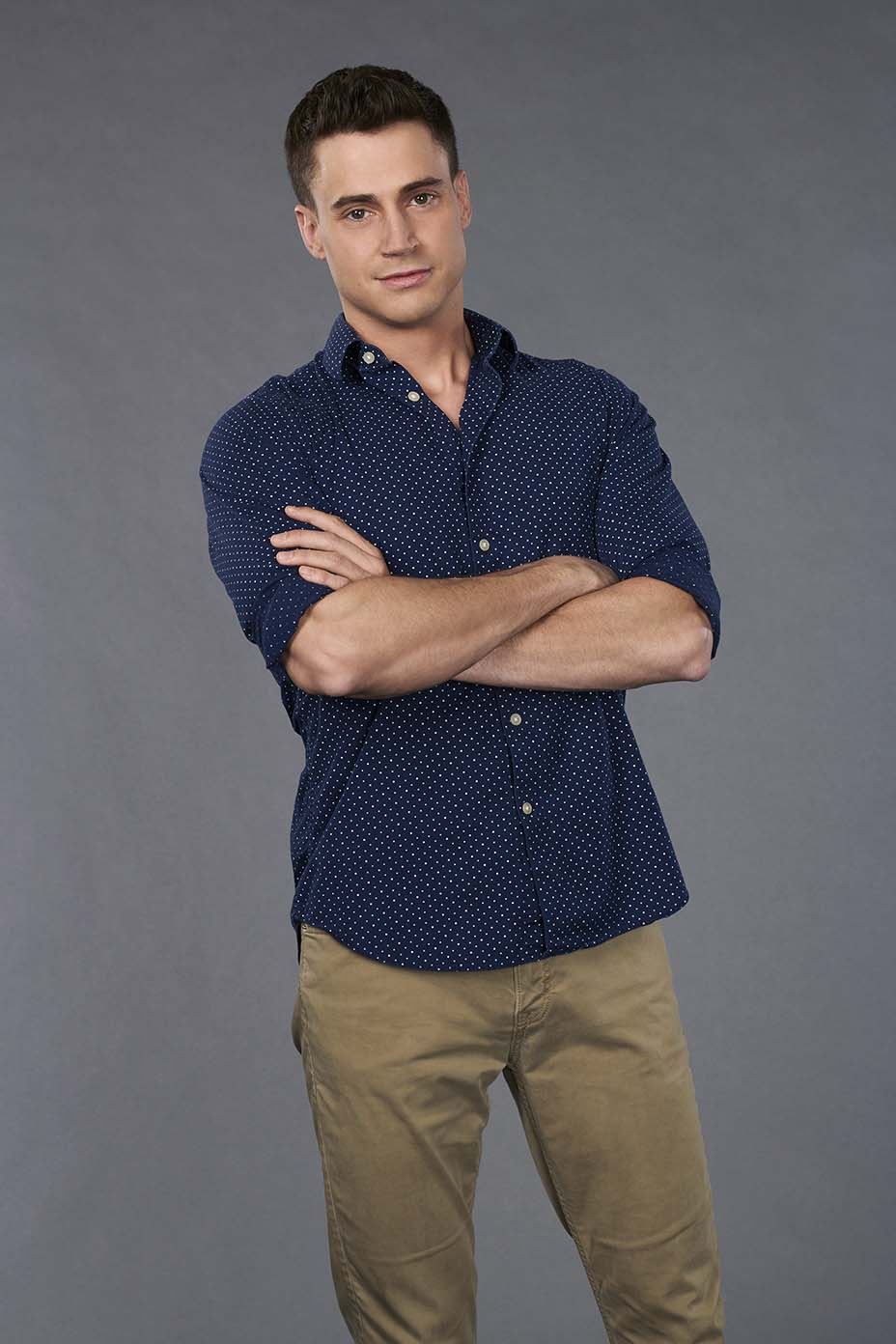 A math teacher from Louisville, KY
Brian loves math. He loves math so much that he teaches it at the same high school he attended. Brian is passionate about helping his students achieve their dreams and is hoping this journey will lead him to his dream woman. Does Brian + Hannah = Love?
Brian was born on Flag Day, so naturally, it's his favorite holiday! He is a pun and sarcasm enthusiast and loves singing karaoke until he loses his voice.
Emily: Honestly, I'm into how much he loves math and loves teaching. Enthusiasm is sexy. So even though his face reminds me of douchey dudes from past seasons, I'm willing to give him a chance.
Bonnie: I saw his face, and was like, nah. I read his bio, and was like, maybe. He sounds pretty great. No major negatives, but his name is Brian. This is not a good name in my personal experience. No offense to all the Brians out there. Except to the three that I've dated. Major offense to you guys.
Kelli: I agree that he sounds cool despite his "look." He's also a hometown southern boi so I feel like he will get far with Hannah. Not gonna lie, but I had to look up flag day. I'm sorry, but that's BARELY a holiday. Also, June 14th makes him a Gemini, which… isn't ideal.
Chloe: I love a good nerd. However, sometimes nerdy guys can be super arrogant and rude so let's hope that's not the case. I don't hate his look, but he definitely looks like the kind of guy that couldn't grow a full beard if he tried.
Mary: Flag day is not a holiday, Brian. Also, I'm all about loving teaching, but teaching at the high school you attended seems...unambitious?
A software salesman from Austin, TX
Cam is a sales manager from Texas with a competitive personality. He loves to be the life of the party and is the self-proclaimed "dance floor king." Will he have the right moves to impress our Bachelorette?
The Notebook is his all-time favorite movie. Cam can freestyle rap about anything and play the harmonica. The most important thing he looks for in a woman is good dental hygiene.
Emily: I'm really tired of dudes saying The Notebook is their favorite movie because they think girls will think that's sexy. The Notebook is not that great, and Ryan Gosling is way hotter now.
Bonnie: I feel like Hannah probably likes competitive guys, but I am so not into that. He plays instruments and allegedly likes The Notebook, so he probably thinks of himself as sensitive. Really he's just a douche.
Kelli: This is the guy who white-rapped on After the Final Rose, and he's the one Hannah gave her first rose to, so we know he's sticking around for at least two episodes. I agree with you, Bonnie — when a dude counts competitiveness as one of his top characteristics, that basically screams toxic masculinity to me.
Chloe: Ugh, he is so cringey to me. This is the guy that walks around a college campus holding a sign that says "Free Hugs".
Mary: Uh...he raps? I highly doubt that, and also, is it really bad? I'm with Chloe that he's cringey and probably thinks he's a lot cooler than he is.
Emily: He sounds like he's actually the worst.
A pilot from Ann Arbor, MI
According to Chasen, "women always love a man in uniform," so naturally, he became a commercial airline pilot. Chasen is a soft-spoken charmer who refers to himself as the "forever wingman"—pun intended. Now, he's ready to spread his wings and find the love of his life, hopefully in Hannah.
His favorite pastime is watching The Bachelor and drinking cocktails with his mom. He once bought a Tiffany necklace for a girlfriend, but she dumped him before he could give it to her, so he gave it to his sister instead.
Emily: This is not a name.
Bonnie: I like that he drinks cocktails with his mom. That's sweet.
Kelli: His mom was drinking cocktails when she came up with that name. He's a pilot, though, which is kinda of cool.
Chloe: Chris Pratt vibes? Anyone else?
Mary: CHASEN?! What in the WORLD is that? A name?! Also, Chasen, hot tip, if you aren't going to give a Tiffany necklace to your girlfriend, you can probably return it. I know those things aren't cheap.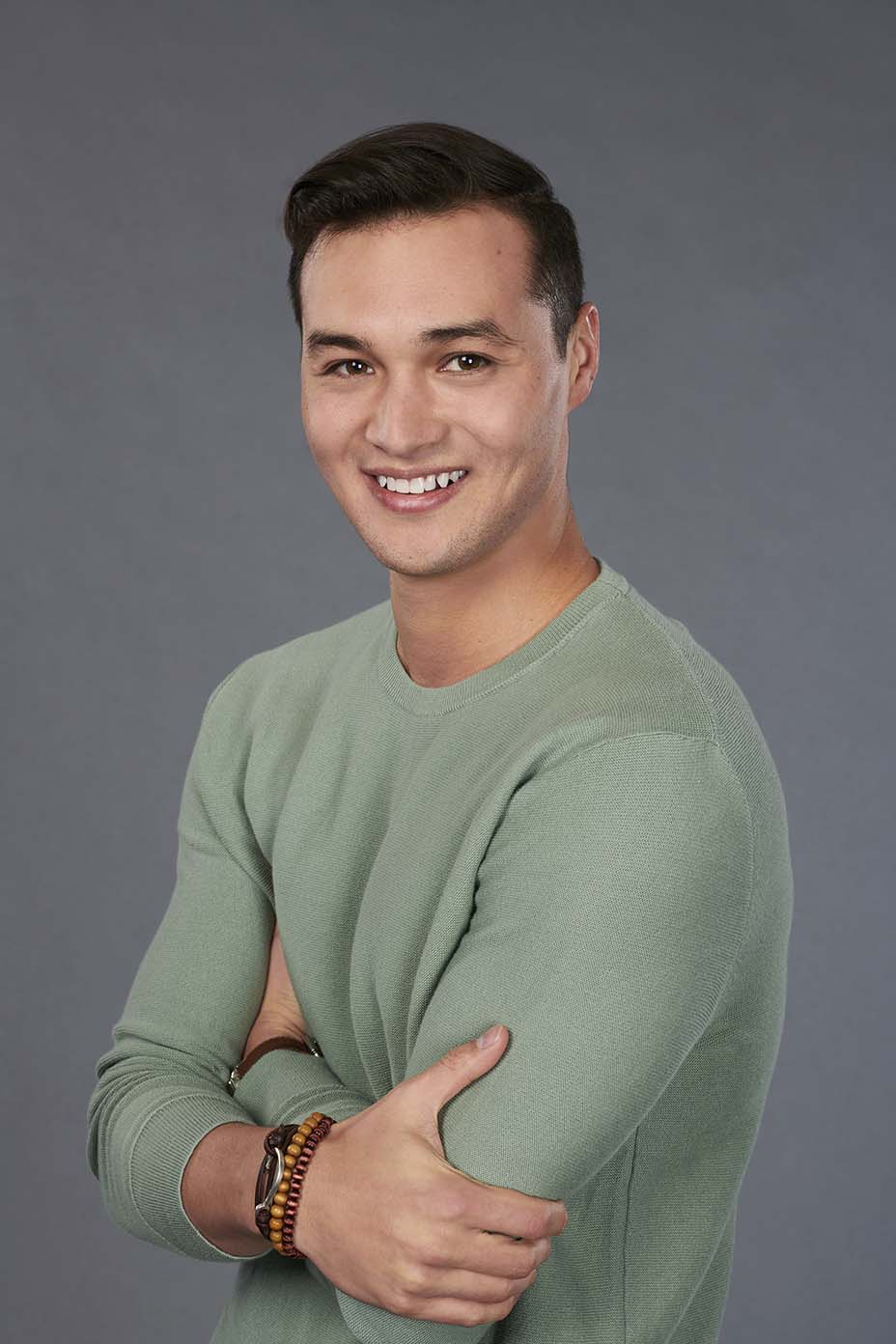 A sales manager from Newport Beach, CA
Connor J. is looking for a woman with whom he can build a life of love and fun. He's full of charisma and is someone that will always open your door and pull out your chair. he is the kind of guy your dad wants you to end up with. Will his manners help him fit in with Hannah's Southern hospitality way of life?
His biggest turn-off is a girl who gossips. Connor has been to 40 out of the 50 states in the U.S. and his grandmother says he deserves a "sexy woman" who is ready to give her grandkids!
Bonnie: Not to gossip but, I heard Connor J is really boring, and definitely does not deserve a "sexy woman."
Kelli: Yeah uh, his "special thing" is having manners? Pass.
Chloe: Newsflash, Connor J. Every female gossips.
Emily: I'm going to take that a step further and say every everyone gossips. Fight me.
Mary: Yeaaaaah, everyone gossips. Period. All folks. Also, hot take, I don't like people opening doors and pulling out chairs for me all the time. I can do that on my own, thanksssss.
An investment analyst from Dallas, TX
Connor S. is a travel junkie looking for a partner with whom to make lifelong memories. Not only is he easy on the eyes, he considers himself to be a true gentleman. His family is the most important thing to him and finding someone to start a family is high on his priority list. Sounds like he and Hannah could have a lot in common.
Connor LOVES Justin Bieber. He swam competitively in college. Even though he doesn't speak Spanish, he loves listening and dancing to Spanish songs in the clubs.
Emily: I hate to be like this, but he loves Justin Bieber, swam competitively, and he loves dancing to Spanish songs in the club… he might be gay.
Bonnie: When I was 24, finding someone to start the party with was very high on my priority list.
Kelli: I'm so confused about the way they phrased that Spanish fact. Why didn't they just say "he doesn't speak Spanish but enjoys Latin music?" Or, I don't know, find a tidbit that tells us anything real about him? Also, "easy on the eyes" seems… generous.
Chloe: A self-proclaimed gentleman! I'll believe it when I see it, Connor S.
Mary: I don't trust whoever decided to say he LOVES Justin Bieber in all caps. That seems overboard? I hope he incorporates Justin Bieber into his limo entrance in some way.
An IT consultant from Buckhead, GA
Daron may seem like a tough guy on the outside, but really, he is just a giant teddy bear. He is a former college athlete and no stranger to competition. Along with sharing a love of football, Daron and Hannah share a lot of similar values when it comes to love. Daron says he loves a woman who can take charge. Does that sound like anyone we know?
Daron is a total video game nerd! He is even a globally ranked champion in Guitar Hero. He is terrified of spiders.
Emily: He kind of looks like OJ Simpson. Also you're from Atlanta, dude. Not Buckhead. Buckhead is not a city in Georgia. It's a subdivision of Atlanta, and it's like the douchiest area of the city, so… like, good for you I guess?
Bonnie: Maybe if he gets to hometowns he'll take her to Lenox Mall. No one would ever say they were from Buckhead. NO ONE.
Emily: Thank you, Bonnie, who has also lived in Atlanta (and actually worked at Lenox Mall), for backing me up.
Kelli: He could be cute or really annoying; it's hard to tell right now. He's scared of spiders so Hannah will probably eat a spider in front of him or something since that's her move.
Chloe: The words "giant teddy bear" are giving me some horrifying visuals right now.
Mary: Is Guitar Hero still a thing?? Also, yes Emily, Buckhead suuuuucks. They're so stuck up, in my experience. I'm glad we're all agreed on this. I do like that he's a video game nerd! I doubt that'll come into play, though.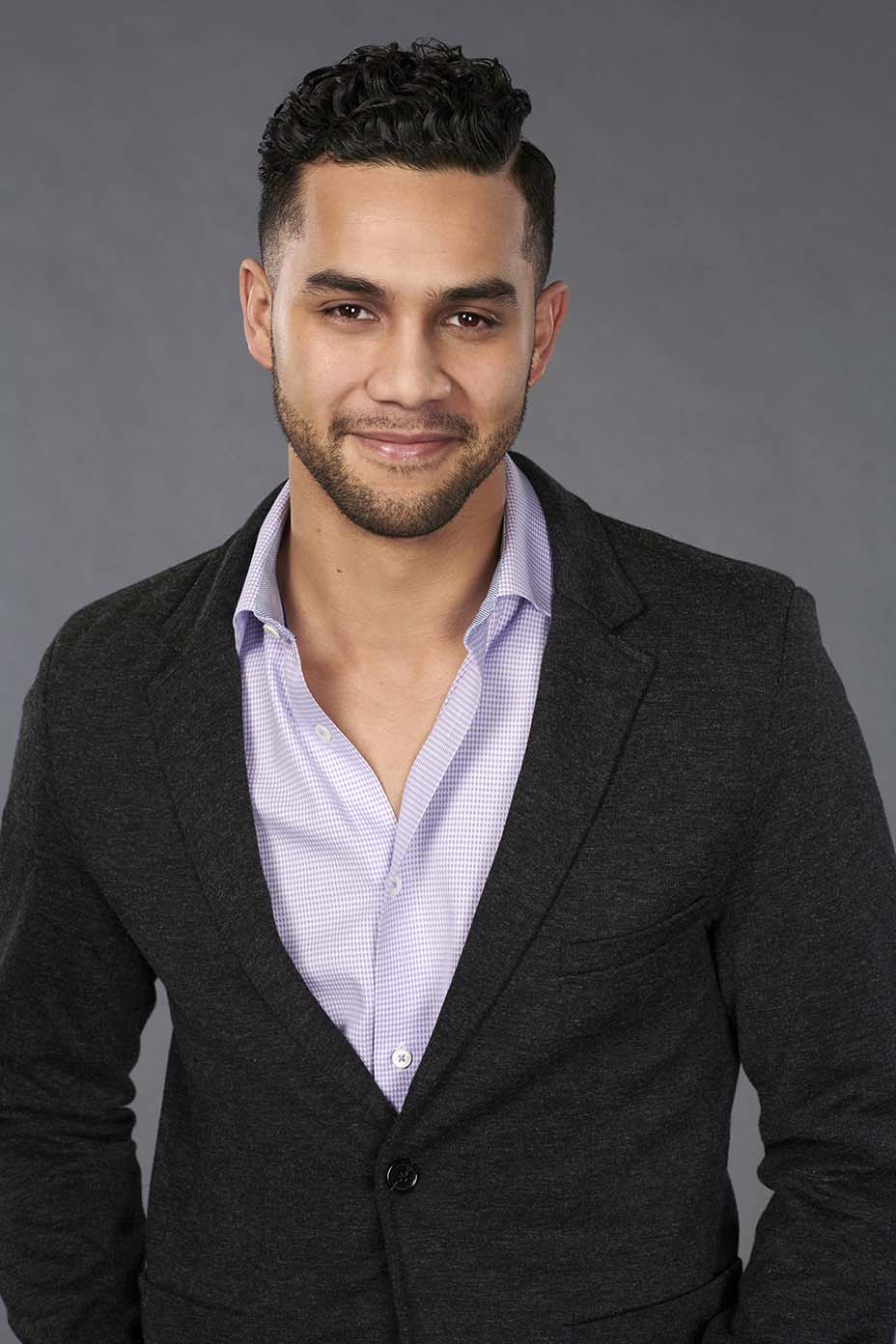 A talent manager from Sherman Oaks, CA
Devin loves being in love. He has been in three relationships, with the shortest one being two years and the longest being five. He says he has trouble finding love in Los Angeles because no one in L.A. wants anything serious. Will Devin have better luck with a woman from outside of Southern California? Maybe an Alabama gal is more his speed.
Devin and Wills from Becca's season of The Bachelorette are good friends. His advice for anyone who wants to find love is "don't be a sleaze." He has an 8-year-old step brother who is one of his best friends.
Emily: He's cute, and he's friends with Wills, who is my husband, so he can stay.
Bonnie: Devin is cute, but one of his best friends is an 8 year old.
Kelli: Aw, he is probably a sweetie if he's good friends with Wills. He doesn't seem super interesting though since his whole profile is about how he likes having girlfriends.
Chloe: This guy has no shot. But he really does seem like a nice guy.
Mary: He seems really nice! I don't know why they chose to lean so hard into his past relationships. That seems like a weird move, and I predict that they'll try to dig up some "trauma" from those past relationships for a sad story on the show at some point.
A real estate broker from Chicago, IL
Dustin is a passionate guy who loves a good night of Netflix and chill, and is looking for a mature woman that his family will love. The son of a single mom, Dustin says that if a woman wants to be with him, she'll definitely need mom's approval first. She'll also need the approval of the other important woman in his life, his English bulldog, Sophia.
Dustin loves Tony Robbins. He says he can beat anyone in a game of Jenga. Christmas time is his favorite of year because all the lights and music remind him of his childhood.
Emily: Christmas is his favorite time of year because it reminds him of his childhood. How groundbreaking.
Kelli: Aw, I think he's cute. He was also on ATFR, and I remember thinking he was real cute then too. Also he has a bulldog named Sophia. I stan.
Chloe: I love nose rings on dudes. And he has a sweet smile!
Mary: Me too, Chloe! The nose ring is nice, he seems like a good dude, loves his mom, and hey, who doesn't love some Netflix?! I hope he stays in for a while.
Bonnie: He's cute and has a dog, but he also works in real estate. I'm conflicted.
A tech entrepreneur from San Diego, CA
Dylan is a handsome entrepreneur with a giant smile and a heart of gold. He is the co-founder of a fitness company that allows people to work out while donating food to those in need. He loves to drive his boat, scuba dive and cook up a big meal. Hopefully, Hannah's hungry.
The majority of Dylan's friends are women. His favorite sport is basketball and he has two tattoos: a palm tree on his ankle and a heart with roses on his chest for his mom and dad.
Kelli: "He is the co-founder of a fitness company that allows people to work out while donating food to those in need." What does this even mean???
Chloe: "The majority of his friends are women"….. I can't tell if that is a good thing or a bad thing. I've learned that if a guy is only friends with women, it's because guys are annoyed by him or he's a major fuckboy. Then again… I have mostly guy friends and I hope neither of those things are true about me. Yikes.
Emily: Sometimes a person's friend group can be situational, but then you don't go bragging about it, so… I don't know. Tough call.
Mary: I hate to say it, but his smile creeps me out so much. That's all I see.
Bonnie: Mary, I think you're onto something. He's gonna cook you dinner on his boat then push you into the ocean. Dexter vibes.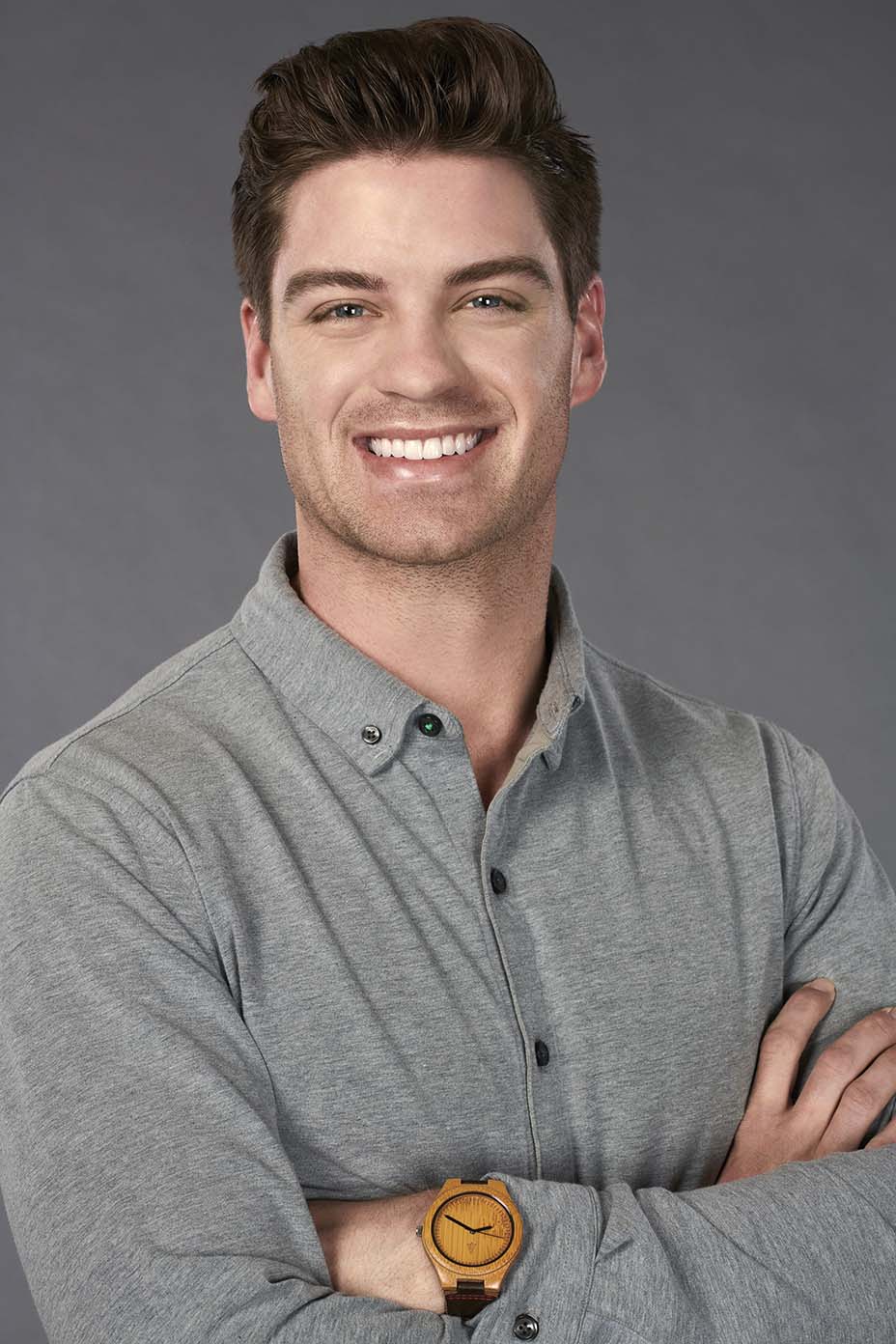 A golf pro from Birmingham, AL
Garrett may be a good-looking pro golfer, but he's really just a humble country boy enjoying life in Alabama. When he's not practicing his putting on the green, he enjoys going to church, running and drinking beers with his friends. Garrett's sister-in-law signed him up for The Bachelorette because she sees so many similarities between him and Hannah. Only time will tell if this match is a hole-in-one or a total mulligan.
He once snuck into Mississippi State's football stadium after hours and made out with his girlfriend on the 50-yard line. He says the most romantic city in the world is Savannah, Georgia.
Emily: This guy gives me Dean vibes. He loves Alabama, so I think maybe he and Hannah will get along really well. Also, the most romantic city in the WORLD is Savannah??!! Dream bigger, dude.
Kelli: Oh wow, I definitely see the Dean. He probably thinks Savannah is romantic because you can drink the street.
Chloe: Whoa he DOES look like Dean! Okay, Garrett, here's to being a better guy than Dean! Shouldn't be too difficult.
Emily: Yeah Dean is… not great.
Mary: Savannah is...fine? It's not great? Maybe he's really into ghosties and likes going on ghost tours (while drinking, Kelli, I totally agree).
Bonnie: For Hannah, I'm sure he's fine. Personally, this bio reads like my own personal hell. Does he ever leave the south? Golf, church football. Hard pass from me.
Unemployed from San Clemente, CA
Grant is the real-life "The Dude." He loves white Russians and has no interest in hearing about your CrossFit workout plan or recent Instagram post. Grant considers himself to be romantic because he enjoys PDA. He loves to impress the ladies with his surprisingly good dance moves and is hoping his blunt realness stands out to Hannah.
His biggest fashion regret is wearing fake earrings to his high school prom. He isn't afraid of a dance-off. Grant has a hard time believing that any young guy who comes on The Bachelorette is "here for the right reasons," and he plans to call them out on it.
Emily: He's unemployed. At least he's honest, but… boy, bye.
Kelli: This guy has real villain potential. I wonder how he's paying for all those white Russians.
Chloe: Does this dude have any redeeming qualities?
Mary: UGH. I don't like him at all. Also, he thinks they're all there for the wrong reasons, but doesn't that mean him too? Is he going to call himself out? I hope he gets a villain edit for sure.
Bonnie: He's an IRL troll who thinks PDA is romance. Bye.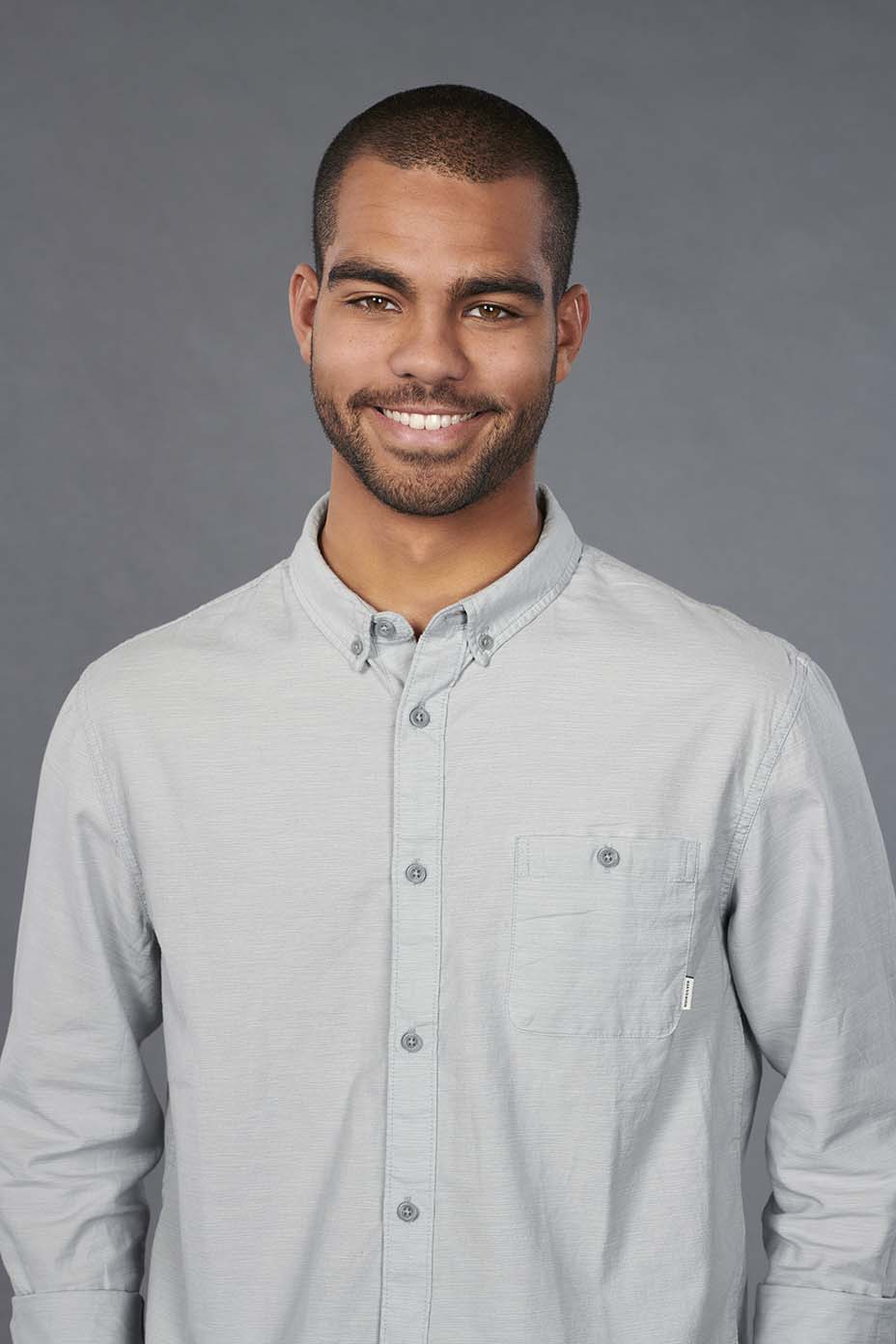 A pro surfer from Westchester, CA
Hunter's life revolves around the ocean. If the waves allow it, he'll be in the water every day. He recently quit his dream job working for the World Surf League to follow his passion and pursue his own surfing goals as an athlete, and to start his own creative agency. We'd help Hunter wax his surfboard anytime.
He has been in two serious relationships and both of them were long distance. Hunter still lives at home with his parents and loves to host a good Bachelor viewing party.
Kelli: He lives with his parents, which is not ideal, but I guess he's pretty successful with his surfing stuff so that's cool? IDK, he's kind of boring.
Chloe: Ah, the luxury to not only land your dream job, but to be dumb enough to quit your dream job. Hunter, you better be a damn good surfer.
Emily: So he quit his surfing job to… surf. I don't get it, fam. Also, I guess he hosts these Bachelor viewing parties at his parents' house, so really, aren't his parents hosting?
Mary: He quit his dream job?! Uh. Nah, don't go down that road, Hannah.
Bonnie: You don't quit your dream job at the World Surfing League to surf. He also wants to start a creative agency. I don't know. None this makes sense or adds up. So wish we had an older Bachelorette. All these 24 year old dudes are tiring.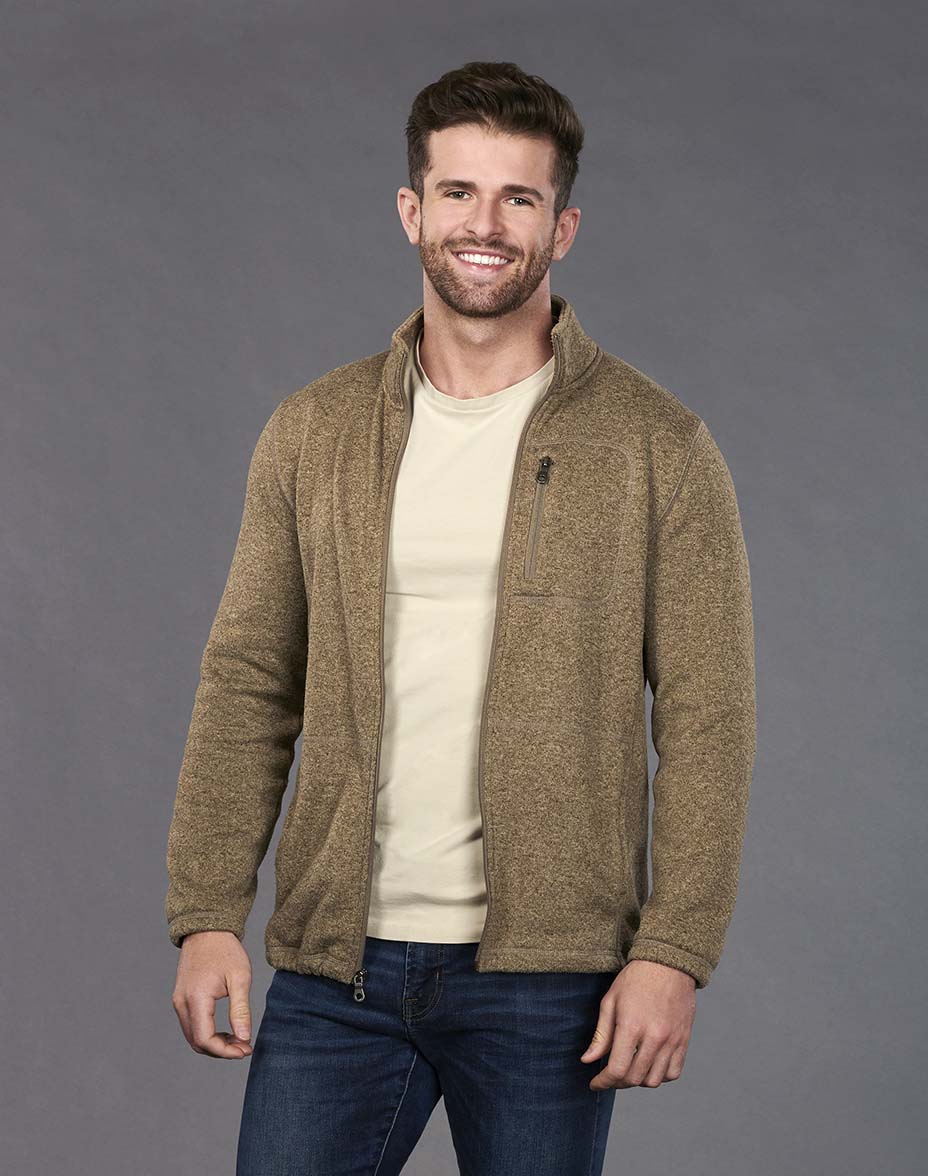 A singer-songwriter from Nashville, TN
Jed is an adventurous singer/songwriter from Tennessee who is looking for a forever type of love. Jed finds it easiest to express his feelings and be vulnerable through his music; but after his last relationship ended terribly, Jed stopped making music and said it was one of the hardest times in his life. Will Hannah be able to help this songbird sing again?
Jed can rap Nicki Minaj's part in "Bottoms Up" flawlessly, and says he can shoot a rubber band with freakish accuracy. He grew up in the Smoky Mountains, the birthplace of Dolly Parton. His biggest fan is his little sister who thinks that he and Hannah are a perfect match!
Kelli: The last time we had a singer/songwriter from TN it was Lee, so the odds here aren't great. I do like that he points out he was born in the same place as Dolly Parton though, because I love me some Dolly.
Emily: Yeah, I thought the Dolly reference was cute, but I hate singer/songwriters. Also, is Nicki Minaj's rap in "Bottoms Up" really that hard? Color me unimpressed, white boy.
Chloe: She's gonna like this one.. I can feel it. He'll be around.
Mary: Can't wait to hear all about his sad breakup. You know we're gonna.
Bonnie: Aren't failed relationships the bread and butter of singer/songwriters? I can't wait to eye roll after finding out what happened.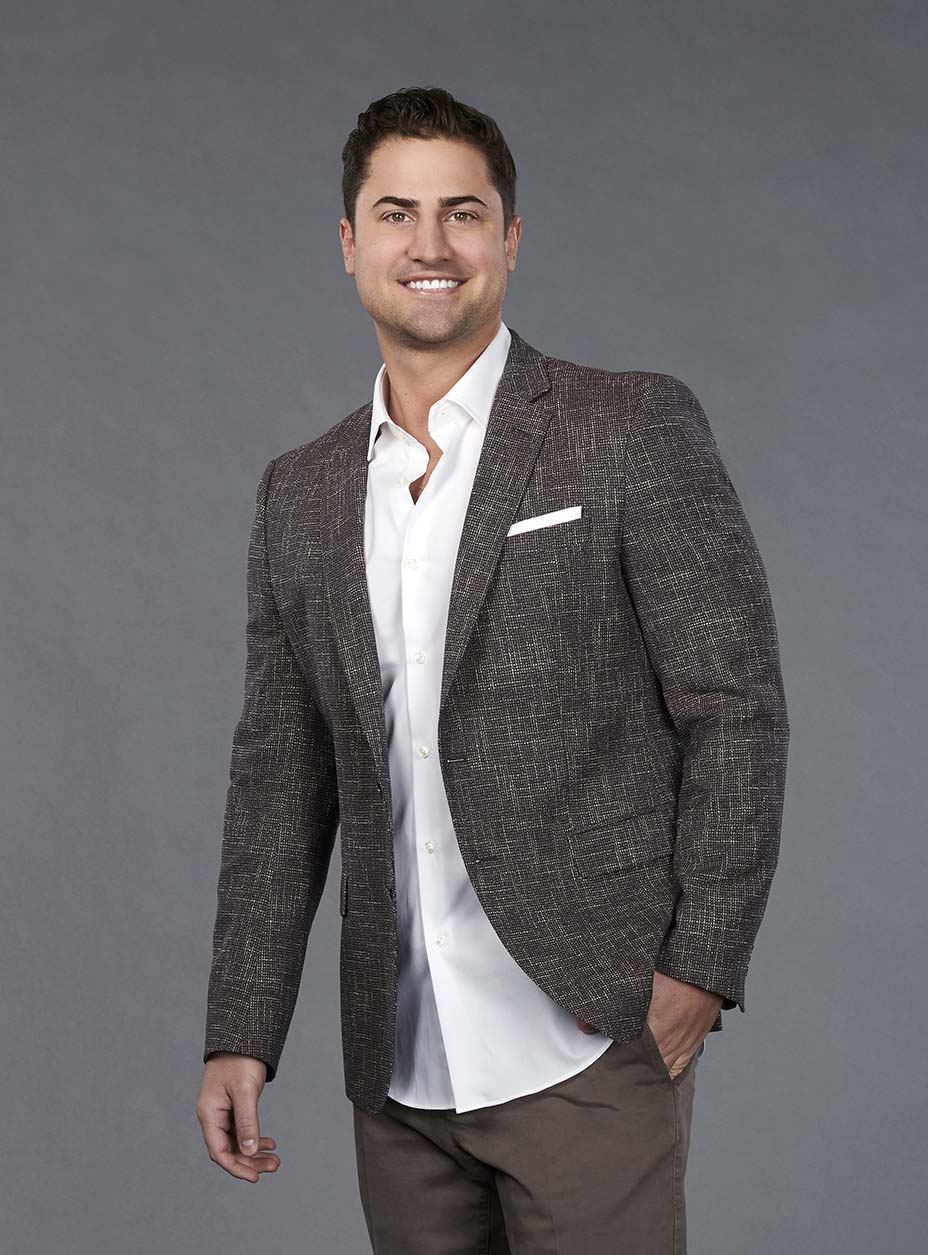 "The Box King" from Chicago, IL
For this Italian boy, family is everything. Joe's two older siblings both have families of their own, and his parents are ready for more grandbabies. When he's not killing it in the family cardboard box business, he enjoys going to Vegas and club-hopping. He is also a whiz on the blackjack and craps tables. Will Hannah roll the dice and take a chance with Joe?
Las Vegas is Joe's favorite place in the world. He went four times in the last year alone. He once went streaking in college and his most complimented features are his eyebrows.
Kelli: I feel like they're trying to do Grocery Joe 2.0 with this dude and his family cardboard box business. Except he's obsessed with Vegas, so like… sleazier.
Chloe: Joey Tribbiani is also Italian and named Joe. I'll hang with this dude in honor of Joey Tribbiani, but for no reason other than that.
Emily: Yeah when he said how much he goes to Vegas, I was OUT.
Mary: What does it mean to be a Box King?! Also, it's weird that several guys have mentioned grandbabies in their profiles. The dude does have good eyebrows though.
Bonnie: Gambling problem, Vegas, grand babies. NOT. THE. ONE.
A finance manager from Bethesda, MD
Joey spent his 20s having adventures and starting his career. He's lived in Australia, Hong Kong and San Francisco; and while he still loves adventures, his priority now is looking for a life partner to settle down and have children with. He is excited to be married, have a house with a pool in the backyard and a couple of kids running around. Hopefully, Hannah likes minivans.
While Joey has bungee jumped and skydived, he is afraid of heights. He is currently re-learning how to play the piano and loves to document important moments with his Polaroid camera.
Emily: Basically, Joey lied about having bungee jumped and sky-dived before so that he wouldn't be forced to go on one of those dates.
Bonnie: Oh my God. Emily, you are so right. Well played Joey.
Kelli: I don't understand his part. Where is it going? Why is it so slanted? Why is the hair next to it cut into bangs?
Chloe: Wait, I kinda like him! Well traveled, a little adventurous, learning to play an instrument… he's living his best life. But the hair is distracting for sure.
Mary: The shaved in part seems like a wild choice to me.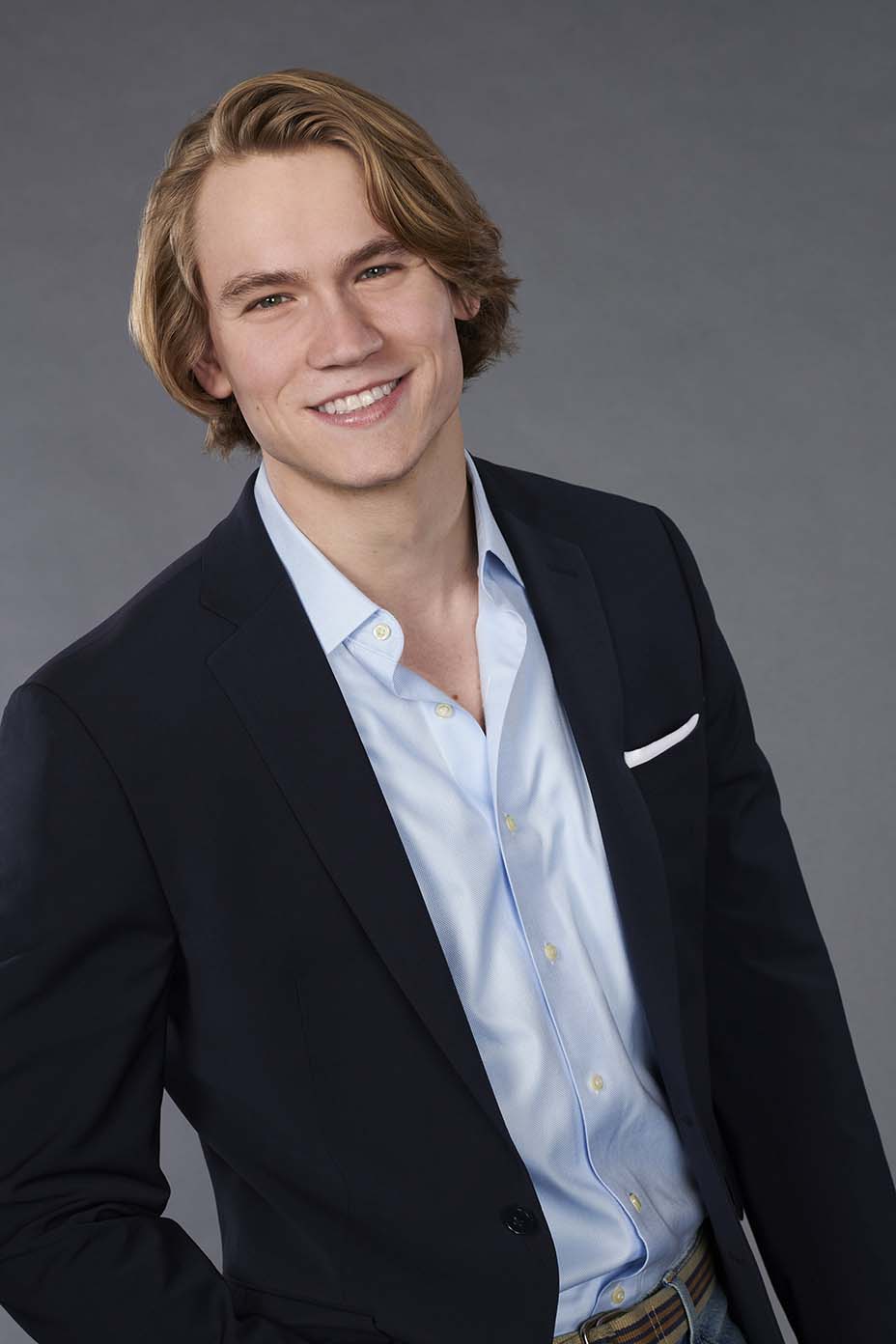 "John Paul Jones" from Lanham, MD
John Paul Jones is a financial analyst from Maryland who is here looking for the real deal. When John Paul Jones isn't daydreaming about his future wedding, he enjoys traveling the world and contemplating the meaning of life. Could Hannah be John Paul Jones' future bride?
When referring to John Paul Jones, always use his full name: John Paul Jones. John Paul Jones' favorite drink is champagne. John Paul Jones rarely uses words that are less than three syllables long.
Emily: This guy is going to be a crazy.
Kelli: Yikes. I have a feeling this is our new Jordan.
Chloe: Yeah, what kind of narcissist demands to be called all three of his names?
Mary: He seems like he was a child star plucked out of the 90s with that JTT hair. Who daydreams of their future wedding?!
Bonnie: He has definitely styled himself based on JTT. Like, JTT as an evil prince.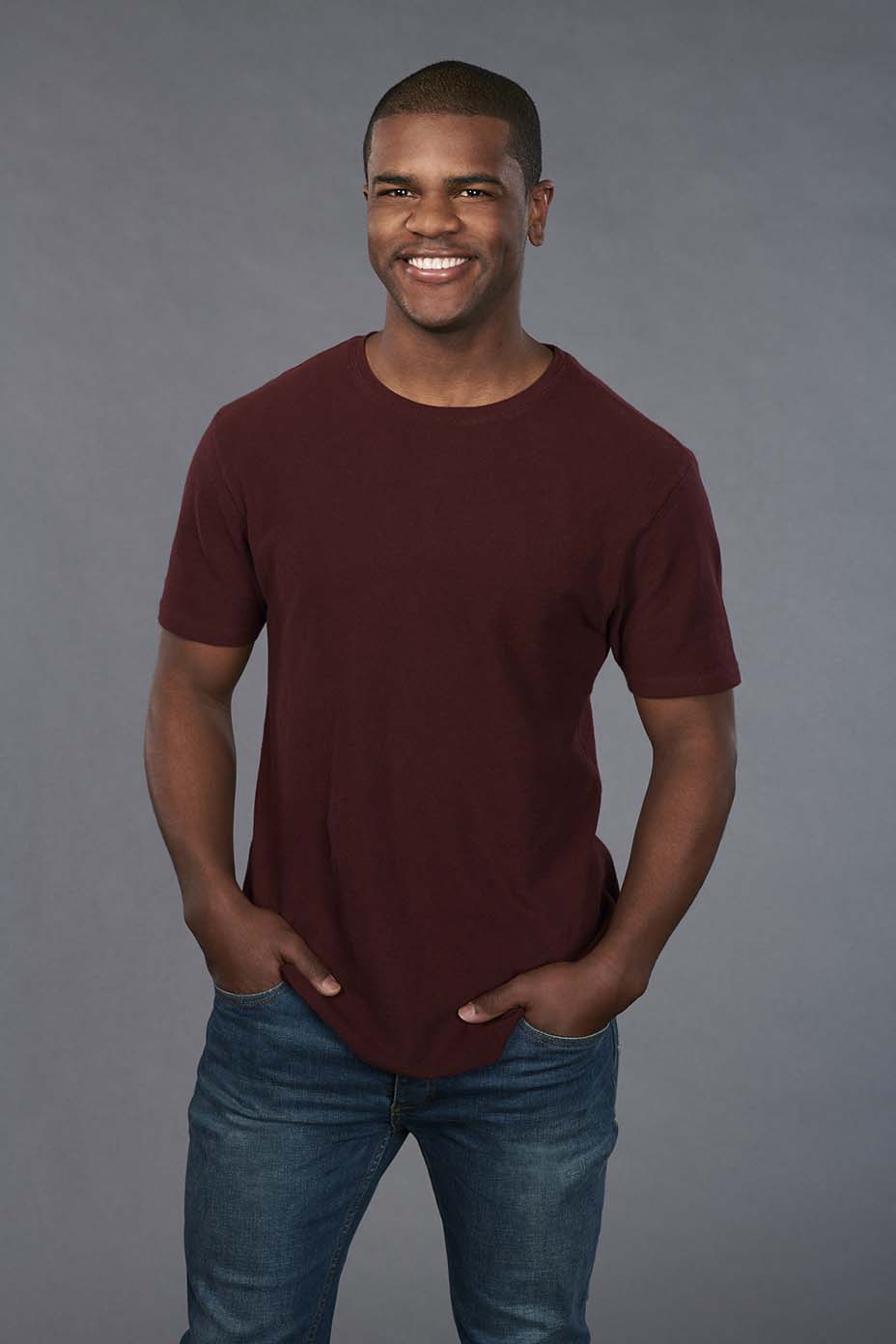 A server from Los Angeles, CA
This Los Angeles native is the life of the party. Jonathan loves to go out, but what he really enjoys is the process of getting ready. He is a perfectionist looking for a woman who appreciates attention to detail just as he does. When he's not at the clubs, he loves playing basketball and spending time with his family at church. Jonathan may be the answer to Hannah's prayers.
Two places Jonathan really wants to visit are Miami and New Orleans. Jonathan loves sparklers. Religion plays a very important role in his life.
Emily: He loves sparklers… why? Like, LOVE?
Kelli: Sparklers are cool. Also, the person writing these bios keeps saying "the clubs" and it's stressing me out. It's THE CLUB, singular. God.
Chloe: LOL. "So, Jonathan, what are some of your passions in life?" "Well, Hannah, I'm glad you asked. I like really, really, love...sparklers." *Hannah stares nervously*
Mary: Hey, sparklers are fun! Also, maybe he's at the country club and the dancing club, Kelli---THE CLUBS.
Bonnie: He's a self proclaimed perfectionist…..RUN.
A behavioral health specialist from Manteno, IL
Kevin is a small-town guy who is the ultimate family man. He works as a behavioral health specialist for the army, helping vets deal with trauma. When he's not working, he's pumping iron at the gym. Kevin says his past relationships haven't worked out because he "loves too hard." Sounds like he may have that fierce love that Hannah is looking for.
Kevin loves the Harry Potter series, and loves to play the piano and sing. He wants to travel more, but he won't go anywhere that doesn't have an available gym.
Kelli: He's a Harry Potter fan so we have to root for him. Plus, I really admire his job. What does it mean to love "too hard," tho?
Chloe: I am here for this one. He loves HP, he's a singer and musician, and has an amazing career. Let's go, Kevin.
Emily: I always stan a Harry Potter fan. We have a BookSquadGoals fave. First impression rose goes to this dude.
Mary: Kevin looks like he's wearing mascara. It's cool that he loves Harry Potter, but (and don't kill me here), that's not an entire personality?
Bonnie: He won't travel anywhere that doesn't have a gym???? Sorry guys, Harry Potter can't get me to overlook this massive flaw.
Emily: Bonnie and Mary are a couple of muggles.
Bonnie: Slytherin actually.
Emily: OMG you and Mary are both Slytherins. It all makes sense now.
An import-export manager from Gainesville, GA
Luke P. is a good Christian boy from Gainesville. He prides himself on being able to get along with anyone, and he loves team sports. After a religious awakening in college, Luke decided that when he dates, it's for marriage. To Luke, "for better or for worse" means unconditional love. Luke seems to be everything Hannah wants in a husband. Is this a match made in heaven, or is it all too good to be true?
Tim Tebow is his hero. His worst fear is having bad gas on a date.
Kelli: TIM TEBOW is his hero? I can't.
Chloe: Oh no, I have a bad feeling about this one. He's going to be hated in that house. But will stick around way too long because he probably fits Hannah's mold.
Emily: So his entire personality is Jesus, and also apparently he gets bad gas on dates sometimes. That's literally all I learned.
Mary: A "good Christian boy" is code for racist in a lot of towns. Also, what up, PEOPLE FART, LUKE.
Bonnie: Him and Garrett are like, my worst nightmares. No thanks. I mean, for Hannah I'm sure he's fine. Just reading this bio made me die inside.
A political consultant from Washington, D.C.
Luke S. works as a political fundraiser on Capitol Hill and is also a tequila expert and entrepreneur. He says he is looking for someone to enjoy the beauties of life with, someone to challenge him, and a partner that has the same thirst for knowledge that he has. Luke's best friends say his perfect girl is a Southern belle with a quirky personality. Does that sound like anyone we know?
Luke's grandma and grandpa were married for 70 years and got engaged after three weeks of knowing each other. People tell Luke that he looks like Nick Viall all the time. Luke says that he once hit on Emily Ratajkowski and made her blush.
Kelli: I wish they would tell us what party he fundraises for. That's important information to withhold, ABC.
Chloe: Okay, what? People say this kid looks like Nick Viall? I just want to take this time to formally apologize to Nick for everyone who has disrespected him in this way.
Emily: Yeah this was Baby Nick Viall, the dude who made a joke about oral sex on ATFR. I don't care that he made a joke about oral sex. I care that he said he doesn't USUALLY go down south. Like… Luke, listen to yourself, and stop.
Mary: He doesn't not look like Nick! He looks like Dollar Store Nick.
Bonnie: If he doesn't usually go down south, he can GTFO.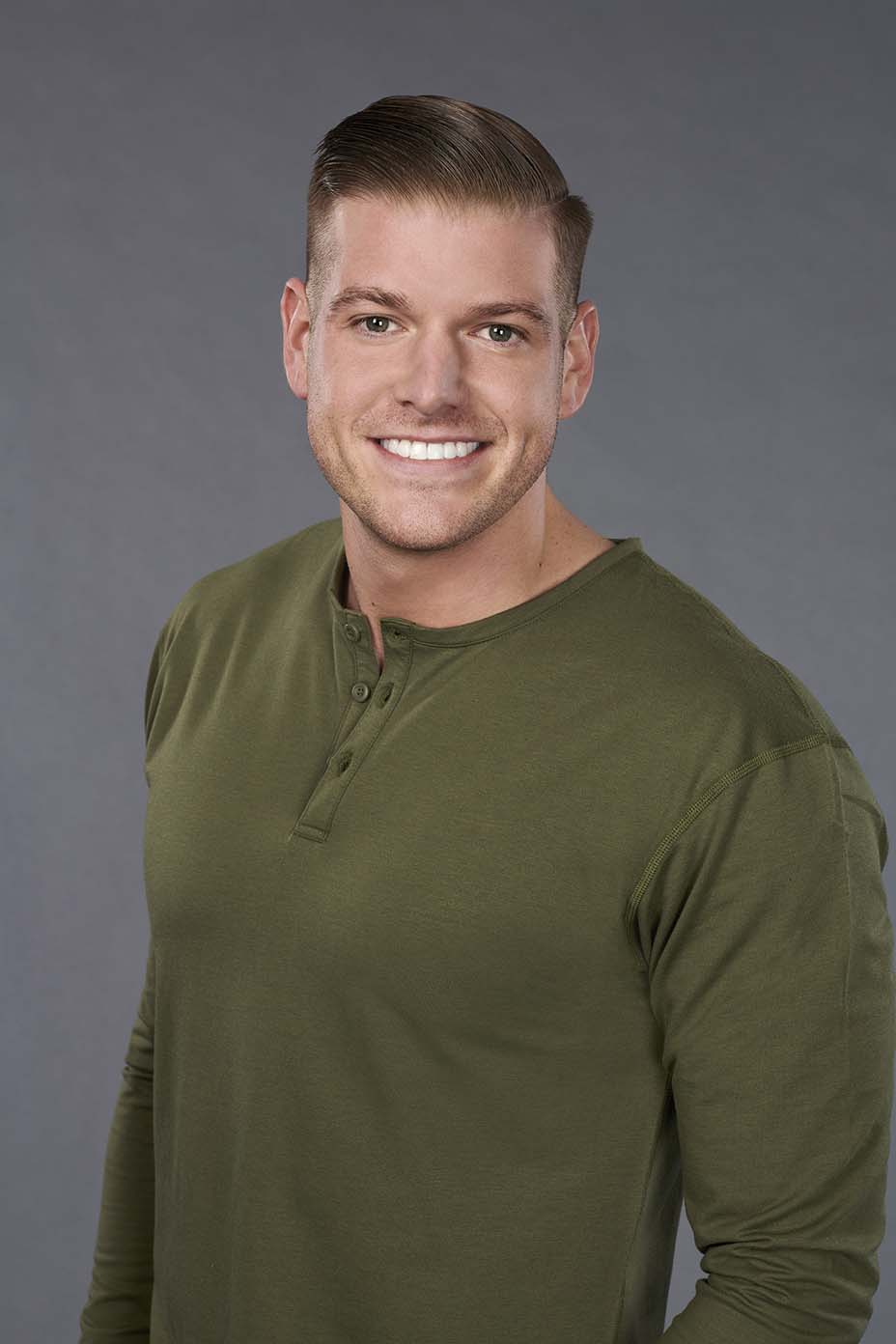 A medical device salesman from Los Gatos, CA
Matt Donald is an old-fashioned guy who loves to bring flowers to a girl on a first date. When he's not killing it in the medical device sales game, he's spending time with his family and watching Alabama football. Matt's brother and parents are deaf, and he grew up speaking sign language. We love a man that can communicate what he's thinking with his hands without ever saying a word, and we think Hannah will too.
Matt loves salsa dancing, even though he says he is terrible at it. His biggest fear in the world is being trapped in a room with spiders. He says that he "loves Hannah and he hasn't even met her."
Kelli: More spider fear. Are we going to have a spider group date?
Chloe: He's an Alabama fan. So, on their one-on-one date, they're going to make toasts to each other like this: "Roll Tide, here's to new beginnings, getting to know each other, and also Roll Tide."
Emily: I have to say I'm kind of intrigued by the deaf parents thing. I feel like being raised in that type of environment would have to give a person a certain amount of empathy. Also, it surely ups the chances for him to make it to hometowns.
Mary: Old Matt Donald had a farm e-i-e-i-o. He seems boring to me, though I am interested in his experience with the deaf community. I feel like that might get overshadowed by his obsession with roll tiding.
Bonnie: Matt Donald does not know what love is.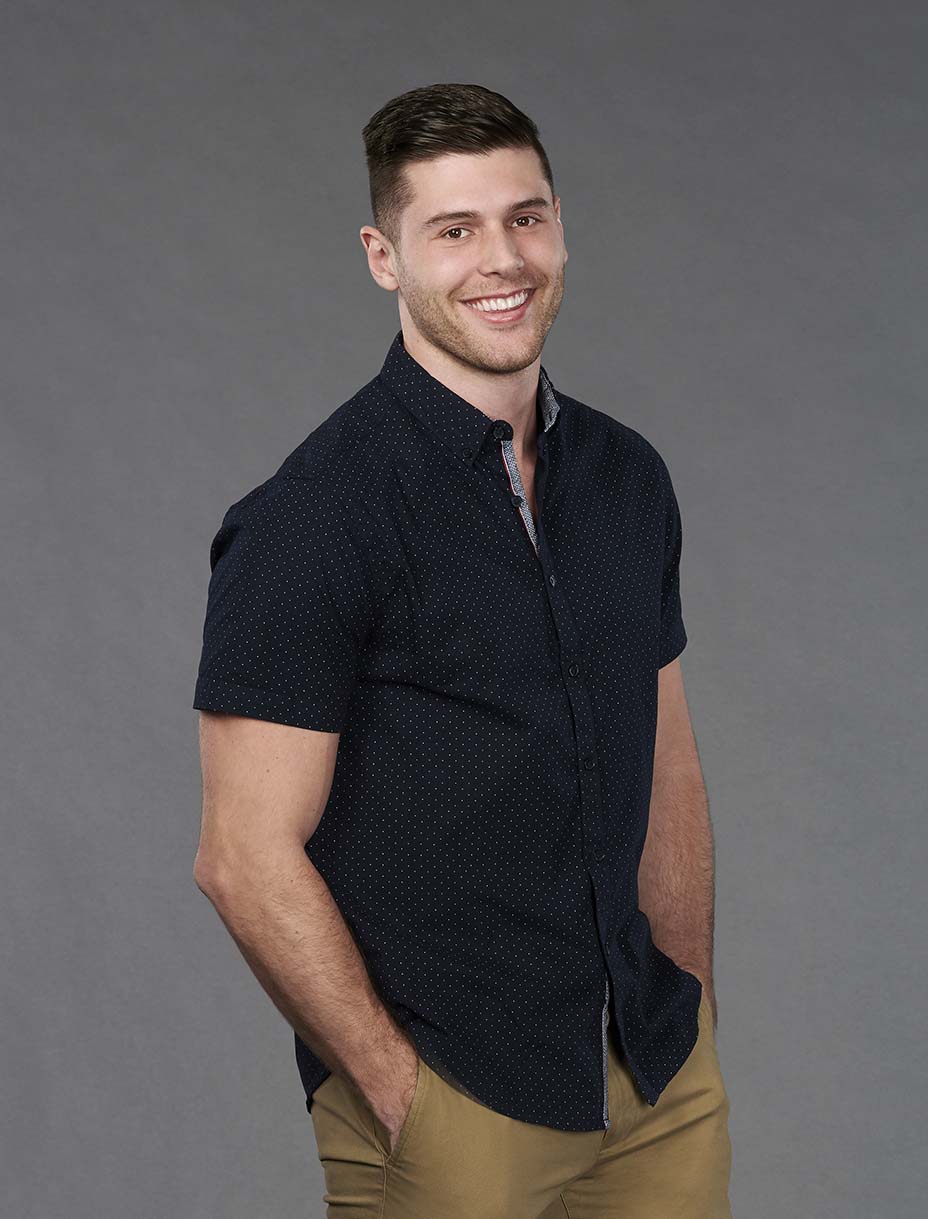 A management consultant from Atlanta, GA
Matteo grew up all over the world, living in places such as Austria and Kenya before settling in Atlanta with his family. He graduated from Georgia Tech and has a degree in mechanical engineering, which is very helpful now in getting his virtual reality startup off the ground. On the side, Matteo is a sperm donor who has helped create 114 children for all types of families — talk about an ice breaker. Matteo may be the strong and silent type, but we have a feeling he and Hannah will have a lot to talk about.
Matteo once competed in a talent show where he chugged a gallon of milk in 10 seconds. If he could have any job in the world, he would be a firefighter. First item on his bucket list: take someone to a ball in a castle.

Kelli: This sperm donor thing reminds me of that episode of SVU with John Stamos where he played a serial impregnator. Also - is he familiar with the concept of volunteer firefighting?
Chloe: This dude must have unbelievably potent sperm.
Emily: YASS I'm loving all these boys reppin' Atlanta. Atlanta's like the Denver of Becca's season. I am into it.
Mary: I wonder how Hannah will feel about the sperm donation thing? I mean, he has to have some motivation for it, doesn't he? I just wonder what the story is there.
Bonnie: I like that he grew up all over the world. That's cool. Graduated from Tech, so he can't be a total idiot. He seems ok. Sperm donor thing doesn't bother me, but feel like it would bother Hannah.
A car bid spotter from Newport Beach, CA
Matthew works in the family business of auctioneering, mainly cars and motorcycles, but he is working toward getting a real estate license. He describes himself as quick-witted, adventurous and energetic, and he enjoys exercising, golfing and hanging out with friends. Matthew is into the ink and has a full sleeve on his left arm, a chest tattoo, two right-arm tattoos and four leg tattoos. Most people's bodies are their temples, but Matthew's is an art gallery.
Matthew's 3-year-old sister is his favorite person. He grew up on his family's winery and would love to join that business one day. Matthew has never left the country and would love to see the world.
Kelli: He weirdly reminds me of Ricky Gervais. "Into the ink?" Again: who wrote this?
Chloe: Yes! I can't get past how strange the phrase "into the ink" is. It's not Matthew's fault that whoever wrote this bio can't use words.
Emily: Growing up on a winery seems cool. I'm drinking wine right now.
Mary: Can we talk about how he has a sister who is 20 years younger than him? Again, what is the story there! Also, whoever wrote this has clearly never watched the show before. There's too much wildness to have everyone's body be a temple.
Bonnie: His family owns a winery AND an auctioneering business? Someone's fancy.
A portfolio manager from San Antonio, TX
Mike is an Air Force vet who enjoys Krav Maga and going to trampoline parks. He has a lot of swag but is a romantic at heart. Mike says he's a "city boy who loves to get down and dirty," perfect for Alabama Hannah.
Mike has been to 30 countries. He's so excited to meet Hannah, but is terrified that she will ask him to go skydiving with her. He really wants to learn Mandarin and get into Parkour.
Kelli: So, he's going to be skydiving.
Chloe: This guy is so interesting. Been to over 30 countries, a veteran, "enjoys Krav Maga" (I had to google that--apparently it's a military self-defense system). Wants to learn MANDARIN of all languages. What a cool dude. Can Hannah keep up?
Emily: I want to date him.
Mary: Dem eyebrows thoooo. Who wants to bet they go on a date where they eat something weird so Hannah can show her bravery and he can show his worldliness?
Bonnie: I hope we get to see him attempt some parkour.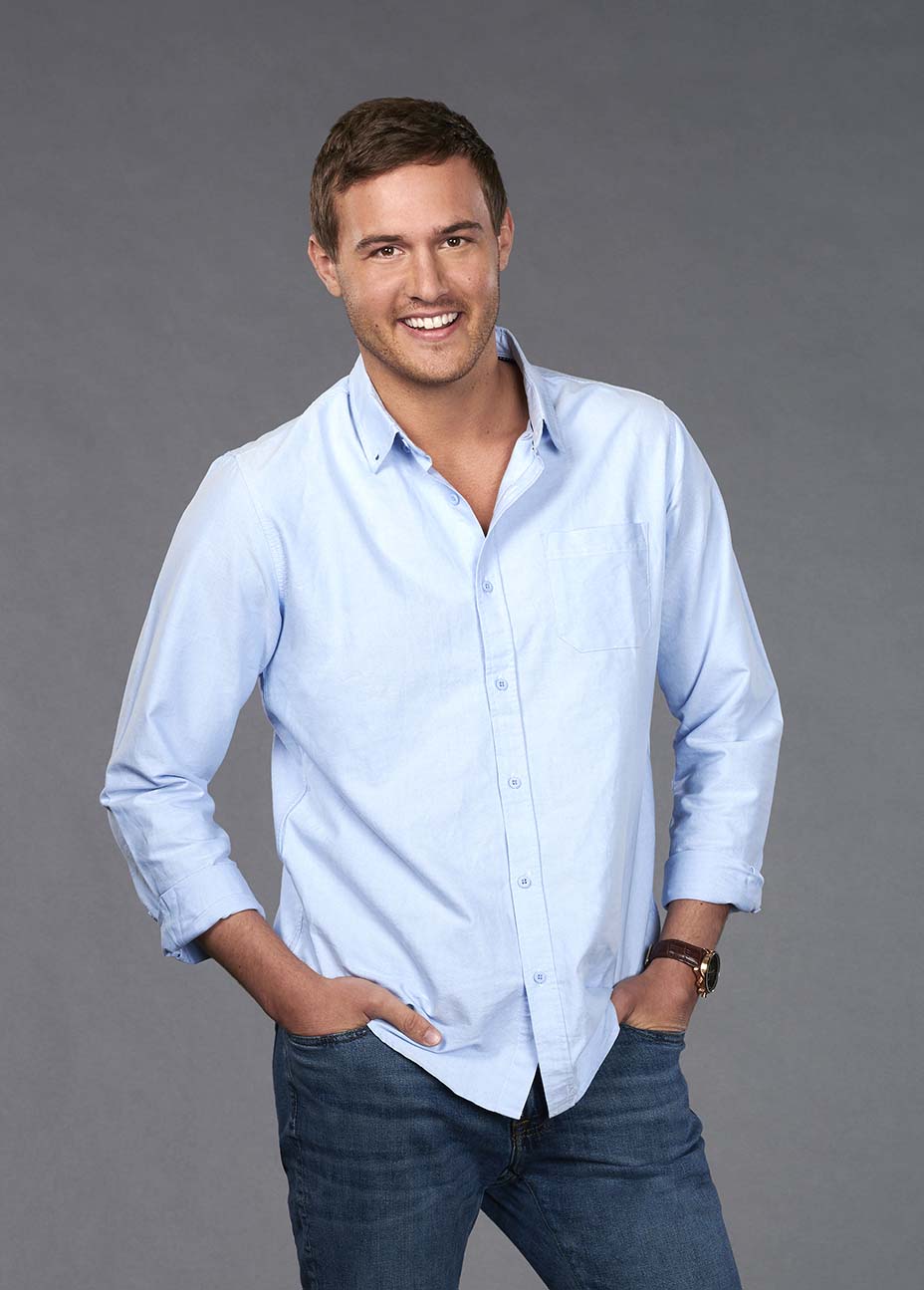 A pilot from Westlake Village, CA
In this pilot's family, the apple doesn't fall far from the tree. Peter's parents met while his dad was a pilot and his mom was a flight attendant. When Peter is not flying the friendly skies, he enjoys snowboarding, watching football and line dancing. Peter's life motto is "you should live this life always expecting something great is about to happen to you." Could meeting Hannah be that next great thing?
Peter's grandma's name is Rose. He once took a girl on a sunset flight to Santa Barbara for dinner. Even though he is a man of the world, Peter still lives at home.
Kelli: This guy is so boring that one of his facts is his grandmother's name.
Chloe: I'm not lying when I tell you that I read his bio and literally cringed at the overwhelming optimism: "you should live this life always expecting something great is about to happen to you" is his life motto. Um, no, thanks, Peter, I'll be here fearing the worst in every situation while failing to manage my existential dread.
Emily: This just tells me nothing has ever happened to Peter, good or bad. Also, yeah, my grandmother's name is Lois. Fun fact.
Mary: *yawn* My grandmother's name is Dorothy and that is a fun fact about me.
Bonnie: He's 27. He should have better fun facts by now.
A "roller boy" from Philadelphia, PA
Ryan is an adventurous risk-taker from Philly. When he's not spending time outdoors hiking or rock climbing, he is passionately working as a data analyst to improve healthcare for women. Ryan says he's never been in love, but he's hoping that Hannah can change that.
Ryan was his high school valedictorian. He is a skilled tightrope walker: He once walked a 1" wire over a 300' canyon in Utah. His favorite food is ice cream and though he loves being outdoors, birds freak him out.

Kelli: I'm sorry, what is a "roller boy?" Why can't people just say their actual job titles? This guy is a data analyst for women's healthcare, which is really fucking cool, but no — ROLLER BOY.
Emily: This guy will go home night one. Calling it now. I just don't see him vibing with Hannah B. WAIT, I guess we just call her Hannah now? WHAT ARE THE RULES??
Chloe: I agree, Emily. Roller boy won't last. Which is sad, I really wanted to get to the bottom of this roller boy business. Maybe they will at least give us that. Just a simple explanation will do.
Mary: What is a roller boy?? Honestly, I'm mostly excited that he's scared of birds. Can there please be a bird date.
Bonnie: He sounds ok. Maybe he'll make it through one round just so they can make him go on a bird date.
A software sales executive from Chicago, IL
Scott is a sales executive from the Windy City. When he's not closing deals, he likes to day drink with his buds on rooftops and watch sports. Scott says that he's a great catch because "I'm employed with a real job and have friends who are a blast to be around. Along with all that, I come from a great family." Okay, Scott, you've convinced us. Now it's up to you to make our Bachelorette feel the same.
Scott is an admirer of Kris Jenner. He says he is very skilled at schmoozing waitresses into giving him free food and drinks. Just for fun, Scott once ran in a circle around the mall food court, acting like a flying chicken.
Kelli: "Just for fun, Scott once ran in a circle around the mall food court, acting like a flying chicken."
Emily: I don't see how that's fun. Also, being good to date because you have a job and friends and a family is A LOW BAR. Like, cool, you're normal.
Chloe: This guy clearly prides himself on being a complete ass.
Mary: Kris...Jenner? Also, saying he has a "real job and friends" sounds like what a robot or alien might say to convince you they're human.
Bonnie: Are they real friends though???? ARE THEY????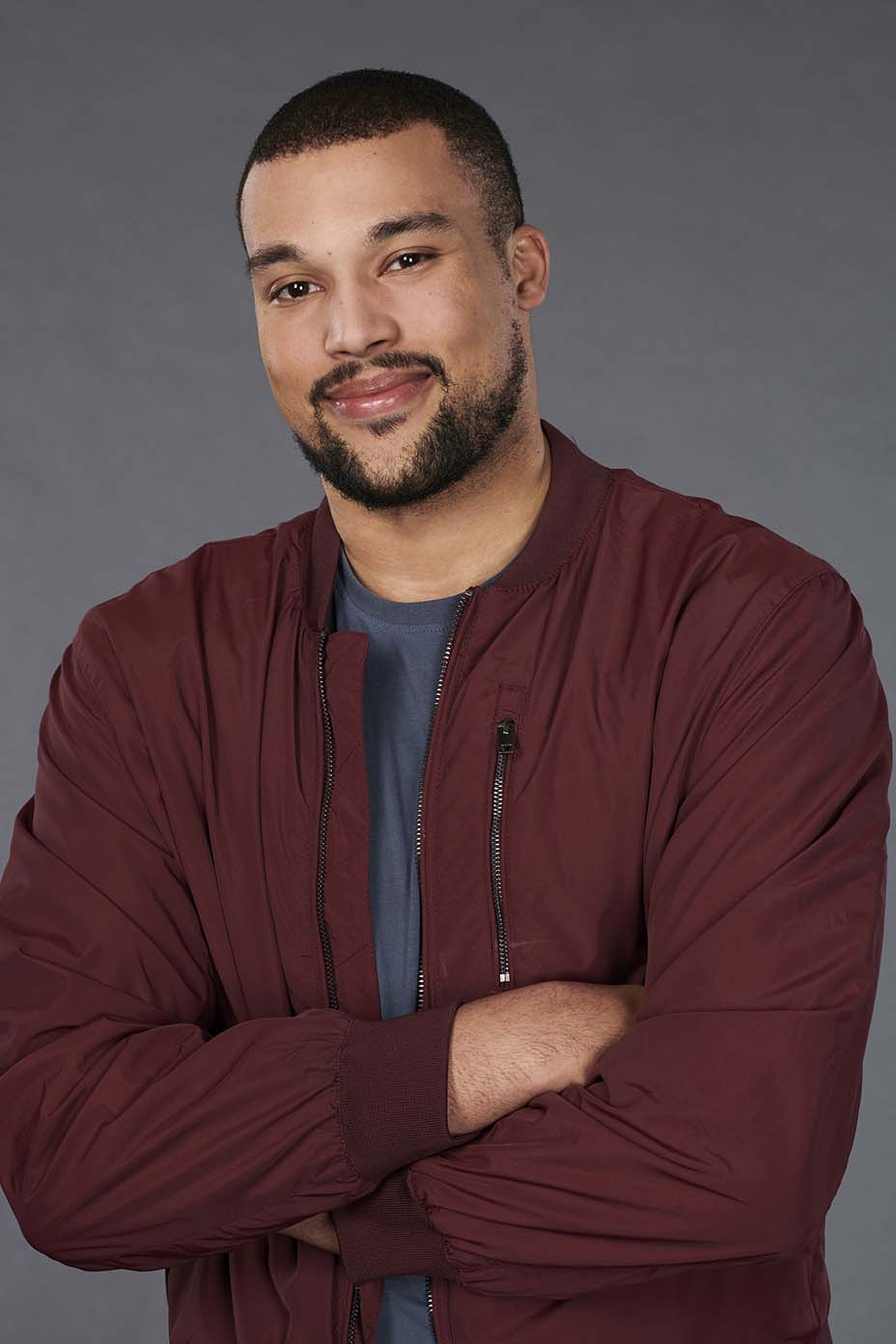 An international pro basketball player from Detroit, MI
Before Thomas was a national recruiter for big energy business, he was an international basketball star. He played overseas for a year but is happy to now have settled in Michigan where his family still lives. Thomas says the person he loves most in the world is his mother because she cares for him like no one else can. Will that change when he meets Hannah?
Thomas' family has never met anyone he's dated. He loves going to clubs and dancing to EDM music. His nickname in basketball was Mr. Fourth Quarter.
Kelli: If he sticks around, there will be drama about how he's never introduced his family to anyone and therefore is not "ready" for this commitment.
Emily: He's really smiling with his eyes in this picture. Tyra Banks would be proud. But for real, he has a nice smile. That's… all I got.
Chloe: YES he's smizing for sure.
Mary: Definite smize. Not sure that there are any interesting tidbits in his bio though.
Bonnie: Are "clubs" different from "the clubs?"
A general contractor from Jupiter, FL
Don't let Tyler C.'s good looks fool you. This stud has his MBA from Florida Atlantic University and kills it as a general contractor in his hometown of Jupiter. When he's not working, he's spending time with his family, scuba diving and hanging out with his rescue dog, Harley. Tyler's only been in one serious relationship but says he will know when he meets the right one because that love will "smack him right in the face."
Tyler LOVES to dance. He says his friends get embarrassed by how intense he gets on the dance floor, but he doesn't care. He was drafted by the Baltimore Ravens but had to leave football because of a bad shoulder injury. Skydiving is at the top of Tyler's bucket list.
Kelli: This man willingly lives in Jupiter, Florida. I'm shook.
Emily: "Don't let Tyler C.'s good looks fool you." Is he good looking? I guess I'll have to see him in motion.
Chloe: AGAIN with the skydiving. I guess all the guys who mentioned it will be going on a skydiving group date. I'm here for it.
Mary: He looks like one of the rich jerks on Bravo's Southern Charm, but I can't completely determine which one. That is not a compliment.
Bonnie: I like that he has a rescue dog and goes scuba diving, but that's it. I feel like he would murder me if this was a black and white movie.
A psychology graduate student from Boca Raton, FL
Tyler G. is a very laid-back guy with a go-with-the-flow kind of attitude. He avoids clubs at all costs and would much rather spend time reading, going to Soul Cycle or relaxing on his boat. Tyler considers himself a modern romantic and is looking for his equal match, who he says is a confident girl that isn't afraid to lay it all out on the table and is one that can make him laugh. Knock, knock. Who's there? Hannah!
Tyler's life goal is to get his PhD in psychology and become a clinical psychologist. He adheres to a strict Keto diet and has a side business in Dream Therapy Analysis.
Kelli: The fact that this guy has a side business in something as bizarre as Dream Therapy Analysis makes me think he is probably Hannah B.'s perfect match.
Emily: He's kinda giving me Ben Z. vibes but obviously he's not nearly as cute. As soon as I read that he avoids going to clubs at all costs and prefers "reading, going to Soul Cycle or relaxing on his boat," I was all in. That sounds great.
Chloe: "Adheres to a strict Keto diet." Sighhhhh…. My *favorite* part about people who follow fad diets is that they feel like they have to tell everyone. Can't wait to see him make a huge deal about it!
Mary: He doesn't look like he was ready for his picture to be taken. I want someone to come to me for dream analysis. I love talking about dreams.
Bonnie: Self imposed strict diet. Bye. But I am curious to see his dream analysis skills incorporated into their first conversation.
How do you feel about Hannah's crop of men? Let us know in the comments! See you next week for recaps!